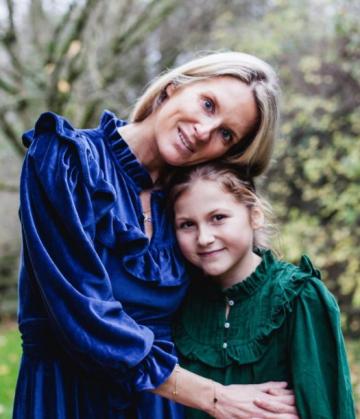 Jubie Wigan is the mother of Aliena, diagnosed with type 1 diabetes at the age of two, and founder of Sugarplum Children.
Jubie became aware that something was wrong with Aliena when her daughter's appetite and thirst seemed uncontrollable. A trip to the doctor confirmed the diagnosis of type 1 diabetes, and the following days were a crash course in how to inject insulin, check blood glucose concentrations and ensure Aliena's safety. But, says Jubie, "However much you manage it, there are always variables. Anxiety, temperature, hormones - they all play a part." Aliena had to have a finger prick to test her blood glucose levels every 2 hours, 24 hours a day, and an injection of insulin every time she ate or had high blood glucose concentrations. "I can't remember life before".
"It has been devastating, overwhelming, baffling and frustrating, with tears shed on a daily basis – however many books we read on the disease, or people we speak to who have type 1 diabetes themselves, it became clear that dealing with the condition in someone so young, who can't say when they are feeling high or low, and who doesn't understand why they can't eat what their friends eat, or why they keep having to have their blood tested etc, is entirely different.
As a result, Jubie came up with the idea of Sugarplum Children – a website and fundraising initiative aimed at children who have diabetes, which will offer help, advice and support to both them and their parents, as well as friends and relatives for whom a basic understanding of the disease is a necessity.
Sugarplum Children is named after a beloved poem of Jubie's by Eugene Field:
Have you ever heard of the Sugar-Plum Tree?
'Tis a marvel of great renown! 
It blooms on the shore of the Lollypop Sea
In the garden of Shut-Eye Town;
The fruit that it bears is so wondrously sweet
(As those who have tasted it say)
That good little children have only to eat
Of that fruit to be happy next day.
"It has particular resonance for parents of children with type 1 diabetes, as we know that the only place our children can really eat all the sweets and chocolate they want is indeed in the garden of Shut-Eye Town," says Jubie.  
Jubie launched Sugarplum children in her own inimitable way: with a ball. "We were lucky enough that some public figures were able to come," she says modestly. Those public figures included Theresa May, then Home Secretary, who lives with type 1 diabetes, Pippa Middleton, Poppy Delevingne and Julian Fellowes. Since then, Jubie has hosted a ball once every two years. "Luckily, we had the ball last year," she laughs. 2019's ball, held at the V&A, raised £1.5 million for JDRF. Jubie and Aliena both gave impassioned speeches and received a standing ovation, Florence Welch performed and Mark Ronson DJ'd, and Jason Atherton and Tom Kerridge cooked. Auction prizes included a trip on the Venice Simplon-Orient-Express and the chance to have actor James Norton as your butler during a private dining experience with Michelin-starred chefs.
In 2020, Covid-19 has put paid to many of Jubie's fundraising initiatives, but she has found other ways to stay positive. "The first lockdown was a real lesson to all of us to slow down, calm down and focus," she says. "On a personal level, it was all about stopping dashing around. I did lots of calls with people who were newly diagnosed." 
As Aliena approaches her teens, she is learning how to take on more of the responsibilities for her condition. "We try to encourage her to eat what she wants, but be realistic about it. I try to make her aware of the effect that different foods have on her. She wears a pump now, so we do a mixture of injections and pump. She's learning how to work out how many units and so on. So I have a freedom I haven't had before. You learn not to let it stop you."
Talking to Jubie, you get the impression nothing could stop her. Brimming with energy, infectious enthusiasm and deep knowledge of her subject, she is the perfect ambassador for this under-looked condition. "Any parent does what they need to do. Luckily, I have more energy than most people I know. It sounds naff, but I do believe we were chosen to go through this for a reason – to make it easier for others. I'm a real believer that it's not the cards you're dealt, it's how you play your hand."
Just as important as raising funds to help find the CURE for type 1  diabetes, is raising AWARENESS about this unrelenting condition and acting as a mouthpiece for those who are too little to shout about it themselves.
Jubie Wigan
26th of November 2020
(© Fiona Hodges, Seraphina London)