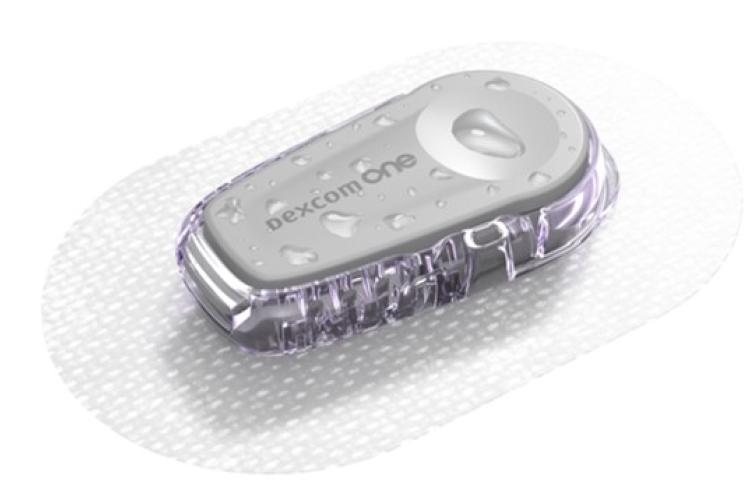 Dexcom ONE launched in Belgium
Continuous Glucose Monitoring accessible to all, without having to finger prick
Do you have type 1 or type 2 diabetes? Do you use multiple insulin injections a day? Then a new solution is available for you: Dexcom ONE, a new smart system for continuous glucose monitoring (CGM). One small device, one simple app*. The Dexcom ONE is the successor to the Dexcom G5 and offers a set of unique advantages: no finger pricking, calibration or scanning, but still accurate real-time values and custom alerts. Simply put, real control over your diabetes and complete peace of mind.
So the successor to the Dexcom G5 in Belgium will not be the Dexcom G6 or Dexcom G7, but the revolutionary Dexcom ONE. A brand new diabetes management system for people with diabetes aged two years and older. The important advances are mainly in the features that give you much better insights into your diabetes and thus, of course, more control. The sensor sends your glucose levels to your smartphone every 5 minutes*. This allows you to take immediate action based on your glucose level, without needing a finger prick** or calibration. In addition to the accurate glucose levels, the app* uses trend arrows to show you how fast and in what direction the levels evolve.
The ultra-thin sensor can be worn on the abdomen or upper arm for up to 10 days and is almost invisible under clothing. Thanks to the auto-applicator, the sensor wire is almost painlessly applied under the skin at the touch of a button. In addition, the sensor is water-resistant, so you can wear it when showering or swimming without any problems. You will not receive any glucose levels while the sensor is under water, but they will be sent once the Bluetooth connection has been restored.
Custom alerts
You do not need to scan to receive your glucose levels. You can set your own alerts for when your glucose levels fall outside the preset values:
Low level alert (60 – 150 mg/dl)

High level alert (100 – 400 mg/dl)

Signal loss (Bluetooth/connection problem)

Momentary sensor problem (when the sensor is temporarily unable to read a value)

Technical alerts (e.g. app stopped, sensor replaced, etc.)
Another new feature is the 'delay first alert'. This allows you to delay the first alarm up to 4 hours. For instance, when you go to bed, but you had a snack. You know that your levels will continue to rise. In this case, a first alarm after 30 minutes is not really necessary, but you can choose to not to be notified until 2 hours later, for example, should your levels still be too high.
Simpler and more accessible
The Dexcom ONE matches the level of accuracy 1,2 of the Dexcom G6 and has the same, slim design. The difference is mainly in a limited number of minor options the Dexcom ONE does not offer. But this also makes it more budget-friendly, allowing a wider audience to now experience the benefits of the most accurate continuous glucose monitoring. Also for those using insulin pens or a pump without a commercial loop system, the Dexcom ONE is a very efficient solution.  
Thanks to its measurements without finger pricks or calibrations, the Dexcom ONE obviously offers many advantages over its predecessor, the Dexcom G5. However, the Dexcom ONE also lacks a share/follow function, another difference from the Dexcom G5. If the share/follow function is important to you, you can opt for a pump with a commercial loop system in combination with the Dexcom G6 in consultation with your doctor.  
Individual follow-up
If you don't have your smartphone at hand, the app* will start sending your levels again as soon as the connection is restored. If you don't have a compatible smartphone*: a receiver will also be available later this year for people who still want to use the Dexcom ONE. This too, is reimbursed by the National Institute for Sickness and Disability Insurance (RIZIV). Another advantage: the Clarity software is built into the app* by default. This means that you no longer need to log in to Clarity separately to view your reports. Very handy for those who would like better control and keep an eye on the TIR (Time in Range). You can view back reports on the app* up to 90 days and the graph clearly shows how often you were within your TIR.
"I can see the effect of everything I eat and I can better choose what to eat and when. I now know the impact of sports and stress!"
User about Dexcom ONE
Dexcom ONE is reimbursed. Free at conventions in Belgium for anyone with T1 diabetes and for those with T2 diabetes under certain conditions. Discuss this with your doctor and diabetes nurse.
1 Beck RW, et al. JAMA. 2017;317(4):371-378. 
2 Welsh, JB et al. Diabète Technol Ther. 2019;21(3).
*For compatible smartphones, check www.dexcom.com/compatibility.
** If your glucose alerts and measurements from Dexcom ONE do not match your symptoms or expectations, use a blood glucose meter for decisions on diabetes treatment.
19/09/2022
Elike van Bronkhorst - Marketing manager Benelux Dexcom